Solo exhibition
'Salon des Arts', Maastricht (NL), 11 March – 1 May, 2023, installation view
Solo exhibition
'Salon des Arts', Maastricht (NL), 11 March – 1 May, 2023,   opening view
Article written by Ad Himmelreich
Ad Himmelreich wrote an article about the artworks
Interview
With Contemporary Art Collectors
Interview
With Contemporary Art Curator Magazine
Work in Progress Series 'The Alchemy of Dreams'
May 2022 – In Progress
Series 'Stories of Transition'
October 2020 – April 2022
The Mystery of the Soul
2019 / Oil on linen / 140 x 400 x 2,5 cm (Diptych)
The Walk of Life
2019 – 2020 / Oil on linen / 140 x 140 x 4,5 cm
Inner Space of the Soul
2019 – 2020 / Oil on linen / 180 x 180 x 4,5 cm
The Battle Between Good and Evil
2017 – 2018 / Oil on linen / 140 x 200 x 2,5 cm
Artist Statement
Robert van de Graaf (b. 1983, the Netherlands) is interested in the connection and relation between the mystical in this world, in all its manifestations (the sea, the sky, nature, human built environments, light and darkness), and the sense and the dimension of the spiritual world and our soul.
In his exploration he is seeking the mystical hidden in this world which he translates into metaphorical paintings. The artworks express a complicated interplay of visual impressions and an emotional and spiritual reflection. They give substance to his ongoing journey to seek meaning in life.
With his work Van de Graaf questions human destiny and how we as human beings can develop ourselves and grow on a spiritual level. He wishes his artworks to stimulate an opening towards personal deepening, both for himself and the viewer. The artworks aim to elicit a gaze back at the viewer, a reflection of feelings, crossing the line from observation to introspection.
Van de Graaf draws his inspiration from religious and spiritual stories, mythology, mystical places and the philosophy of life. His poetry, written during or before the creative process, also has a direct influence on his work. He transforms his inspiration into contemporary interpretations while richly referring to artists through all times of art history such as Caspar David Friedrich, Anselm Kiefer, Joan Mitchell and the old masters.
Though primarily working on his oil paintings, he is also using drawings and watercolours during the creation process. The oil paintings are layered, densely merging his diverse range of mark making, the expressive use of colour and studied compositions. His mark making, using brushes and palette knives, is moving from energetic gestural marks to very delicate ones, wishing his mark making to create a language which speaks directly to the heart and soul, not only to the ratio and mind. Throughout the different stages of the work he is adjusting in working speed, working from fast directed intuitive outbursts to precisely observed slower additions. The paintings are often large in scale and balance between the figurative and the abstract, giving a certain freedom to the viewer.
Van de Graaf received a Master of Science (MSc) degree in Architecture (Technical University Delft) in 2009. At an early age he enjoyed an intense private painting and drawing training (1996 – 2001) by the Dutch artist Erica Meyster (1949 – 2006).
Van de Graaf experiences the process of creating as inner battles, freedom and faith.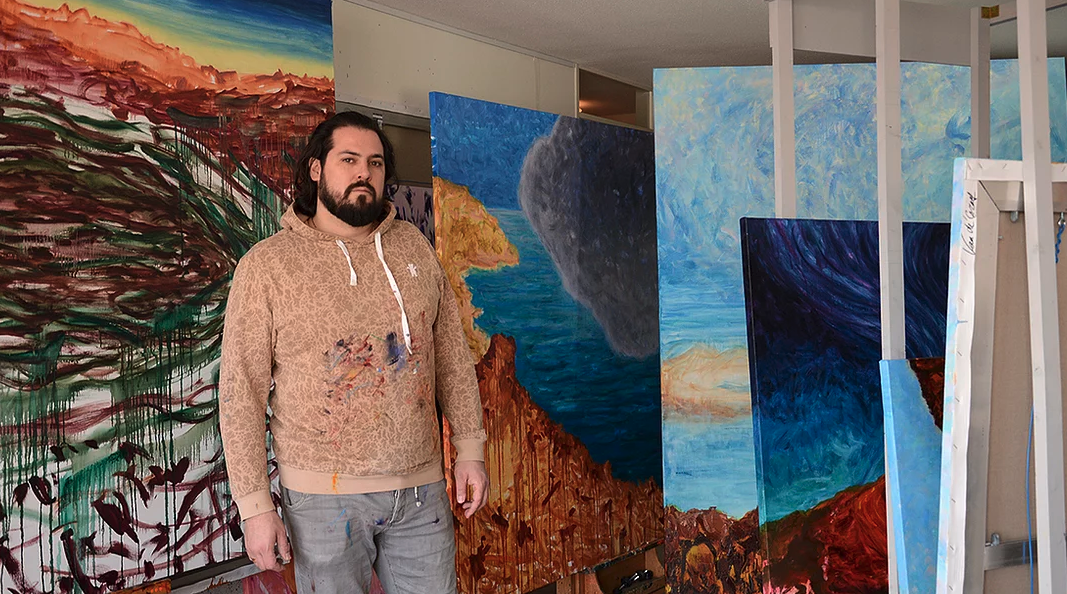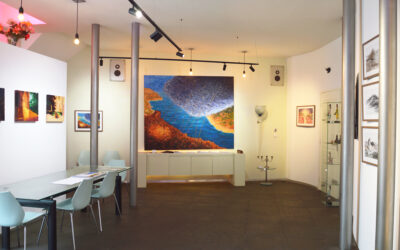 Exhibition dates; 11 March  – 1 May, after 19 March open on appointment
Salon des Arts
Keizer Karelplein 18, Maastricht
The Netherlands
Louis Berkhout
+31 6 51 85 22 63